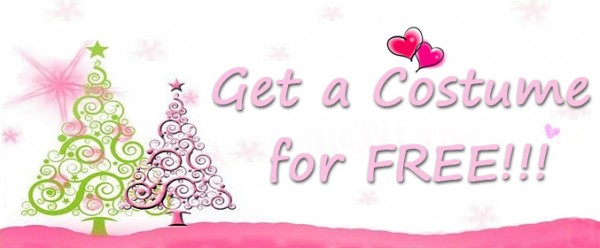 ………..
Merry C

hristmas!!!

Dear all our favorite friends ♥

….

We have exciting news for all of you.  We prepare a special offer for everyone this year!

…..
!!!  0 Hours Left On Ordering Give Away Items  !!!
~~

3

Items Released In This Morning,

133 

Items On List In Total ~~
+++ Totally

9

 Items Are Available Now +++
Updates: 04/12/2012  11:59  (HK time)
…..
…screenshot 1 hour after launch X'mas Give Away….
↑
↑
↑
↑
↑
↑
↑
↑
↑
↑
↑
↑
↑
↑
↑
↑
 All the costumes in CosplayFU Give Away Corner are FREE!  You just need to pay for the shipping fee and we will give you the costume for free!!!  (((o(*゚▽゚*)o)))
PERIOD: From noon Nov 20th ~ noon Dec 4th 2012 (HKT)
OFFER: All members worldwide, totally 133 items.
DETAILS: In this post~~ (All links are updated already~)
…. 
*Using Paypal payment gateway will be the fastest method~~
.
*Tells your friends who love CosplayFU and share our joyful presents~~
P.S. No More Limitations On How Many Give Away Items You Can Order, So Just Get All You Want & Use Paypal To Pay For The Order!!!
………
We only have one quantity for each size of the costume. So there is only one chance for each costume, get your favorite costume now!
….
♥~~P.S.  We Just Upload The Lucca Comics & Games (Italy) Event Photos~~♥
↓↓↓↓↓↓
….