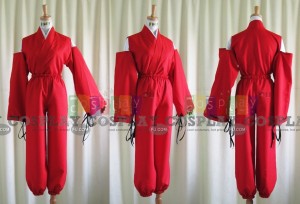 "InuYasha""Robe of Fire Rat"" – superb, excellent, I am very Impressed. The matching wig is all I could have wanted.
Kenpachi Zaraki – perfect, every seam finished, a challenge to put on the pants, had to look up how those were meant to be tied on with the generous length of sash. ( which also allowed me to weave in my bokken).
Yoruichi costume – well, the pants seem to have been made for someone with a 24 inch waist, The jacket is perfect for my daughter, pants could have been 28 but no big deal, any pair of black pants work.
The costume jewelry and key chains are very well done considering the very low price you sell them for.
I will be recommending you to anyone who admires the costumes you provided. THANK YOU ! You people are GREAT.
CosplayFU Costumer: Brett Ozero (Canada)