Email us
Write a review
Share with your friends
Video Demonstration
For Soji Seta cosplay from Persona 4
The color in the image could look slightly different from the actual product

Including :
coat
Material :
polyester costume
Processing Time :
12-17 business days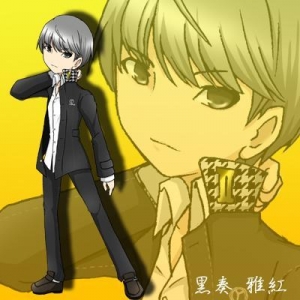 Constellation:
lonely
Character:
Souji Seta is a second year student when he transfers to Yasogami High. As his parents travel often for their careers, Souji often finds himself in different environments and surrounded by many new people.

Source from Wikipeida
Ordering Information
How to measure?
A: About the measurement, when you choose custom size, you need to measure your exact body size (according to the following picture) instead of the costume size. Our tailors will make the costume fit for you.
Once you make an order, it will take 15–20 working days to customize your costume by professional dressmaker. Complicated dress may need more than 30 days. Some wigs and Customized shoes will take a litter longer, about 4 to 5 weeks. All the accessories can ship immediately. If you need to attend a convention, please make sure you have enough time for preparing.

Our dressmaker will start customizing the dress for you within 2 days after receiving your payment, it's impossible to cancel an order. Please make a careful decision.
Payment:
We accept payments from CCNow, Worldpay and Moneybookers.
CCNow
accepts Visa, MasterCard, American Express, Discover/Novus, Diner's Club, and JCB cards.This includes all card types that are derivatives of those brands. Some examples are: Visa check cards and debit cards, MasterCard "MasterMoney", EuroCard, etc. Paypal is also acceptable in our website.
Moneybookers
mainly accepts payments by credit cards, bank transfers and "pay by Moneybookers" account. For credit card payments, it includes VISA, MasterCard, Amex, Diner's Club and JCB cards. For bank transfer payments, it is available for customers from
European and Asian countries
. For pay by Moneybookers account, customers can send money through moneybookers.com directly. No transaction fees will be charged.
For
WorldPay
, it accepts Visa, MasterCard, Visa Debit and MasterMoney.
Custom & Tax:
Cosplayfu has no control over import charges and does not have responsibility for the package meeting local customs taxes. When ordering from our site, you are considered the importer and must responsible for the import tax or any additional charges. You should contact your local customs office for further information because custom policies are different from country to country. If the package is subsequently returned to us, you will be responsible for the return shipping charges and the transaction fee of the total product purchase. Then the rest of the money will be refunded to you after we get the package back.
Shipping & Handling:
Cosplayfu.com offer free worldwide shipping. Please make sure your shipping address is correct. We often use China Post, Hong Kong Post or USPS. Most likely you will get the products within 20-30 business days.
You also can choose other shipping methods to have a fast shipping. But extra fee is needed.
Refund:
We accept 100% refund when the product has quality problems or any unexpected mistakes. However the buyers are requested to send the product back to our office.
Please feel free to contact us by submitting a ticket in our
Support Center
.
Thank you!! How much would it be and can I get a link to purchase it :)
CosplayFu (support@cosplayfu.com)

05-09 07:15

Hello Amina, this is Seata's coat only, if you'd like to buy the coat only, you can make the order directly in this product link. n_n




*All shipping information (including methods, cost & estimated delivered date) will be shown in order page, before payment; you can pay extra cost to upgrade shipping method there.

*Please remember to mark down the date (you need it) in the order form when you order it. :)
hello i know this is extremely short notice but i was wondering if there was any chance i could get this by the 25th May. Im situated in London, England and I'll be willing to pay any price for it to get additional super fast shipping and im really desperate and need it. if you could reply asap that would be appreciated!!
CosplayFu (support@cosplayfu.com)

05-08 23:45

Hello Amina, this costume need 12-17 processing days for our tailor to make, and if add to the fastest shipping way (UPS, 4-6 days), it can reach you by the 25th May. But we cannot 100% guarantee it can reach on time, however, we will try our best to make it for you. n_n
Hello, I was wondering if I should order a size up if my dimensions are almost exactly the dimensions of the size "male s." I would like a little room to move, but I'm afraid that size "male m" would be too big. I would choose a custom size, but again, my measurements are almost the same as "male s."
CosplayFu (support@cosplayfu.com)

08-13 01:26

Hello Holland, choose custom size will be more fitting.