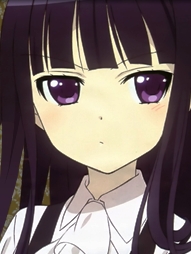 Constellation:
half-human, half-demon
Character:
A half-human, half-demon high school girl who transferred to Room 4 of the Ayakashi Mansion in order to live alone. She yearns to be independent and constantly worries about not being able to communicate with other people properly, one of her reasons for moving. Her SS agent and servant is Sōshi, a fox spirit. She finds out that it was Sōshi who wrote the letters to her (which were meant to be from her fiancé) in chapter 8. Ririchiyo confesses to Sōshi in chapter 10. Though she has characteristics of a tsundere, she is actually a tsunshun in terms of personality.
Ririchiyo was killed at the age of 16 after trying to stop the enemy youkai raid after they killed Sōshi.

Source from Wikipeida