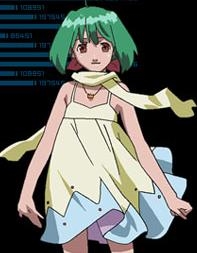 Constellation:
petite,lively,cheerful,naive
Character:
Age: 16, Height: 156 cm, Weight: 42 kg, Blood type: O
Ranka is a petite, lively and cheerful (although naive) teenage girl with green hair. She suffers from post-tramatic stress syndrome as a result from witnessing the destruction of the 117th Long Distance Research Fleet in which her biological family perished. She is one-quarter Zentradi, which gives her the ability to have her hair move on its own according to her feelings as well as an above-average resistance to the vacuum of space.

Source from Wikipeida