Need Commissioning? Talk to us!
Email us
Write a review
Share with your friends
Video Demonstration
For Alice (Pandora Hearts) cosplay from Pandora Hearts
The color in the image could look slightly different from the actual product
About 135cm

Material :
heat resisting fiber wig
Processing Time :
4-6 business days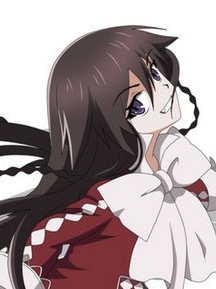 Constellation:
tsundere,huge appetite,hotheaded,selfishness,straightforward,frank
Character:
The heroine of the story with a height of 150 cm. Alice first appears as a chain that persuades Oz to form a contract with her in the Abyss. In fact, she is actually the infamous B-Rabbit (Bloodstained Black Rabbit), the strongest chain in the Abyss. Alice's goal is to find her lost memories, which plays a major role in the story. In human form, Alice has long dark brown hair with 2 side plaits. She has a huge appetite and loves meat especially. She is hotheaded, loud spoken and says what she thinks without regard to the consequences. Despite this, she has a soft side, especially when Oz is involved. She hates when Oz leaves her alone, but to hide it she usually says, "I'm in a contract with you.
Source from Wikipeida
Ordering Information
Once you make an order, it will take 15–20 working days to customize your costume by professional dressmaker. Complicated dress may need more than 30 days. Some wigs and Customized shoes will take a litter longer, about 4 to 5 weeks. All the accessories can ship immediately. If you need to attend a convention, please make sure you have enough time for preparing.

Our dressmaker will start customizing the dress for you within 2 days after receiving your payment, it's impossible to cancel an order. Please make a careful decision.
Payment:
We accept payments from CCNow, Worldpay and Moneybookers.
CCNow
accepts Visa, MasterCard, American Express, Discover/Novus, Diner's Club, and JCB cards.This includes all card types that are derivatives of those brands. Some examples are: Visa check cards and debit cards, MasterCard "MasterMoney", EuroCard, etc. Paypal is also acceptable in our website.
Moneybookers
mainly accepts payments by credit cards, bank transfers and "pay by Moneybookers" account. For credit card payments, it includes VISA, MasterCard, Amex, Diner's Club and JCB cards. For bank transfer payments, it is available for customers from
European and Asian countries
. For pay by Moneybookers account, customers can send money through moneybookers.com directly. No transaction fees will be charged.
For
WorldPay
, it accepts Visa, MasterCard, Visa Debit and MasterMoney.
Custom & Tax:
Cosplayfu has no control over import charges and does not have responsibility for the package meeting local customs taxes. When ordering from our site, you are considered the importer and must responsible for the import tax or any additional charges. You should contact your local customs office for further information because custom policies are different from country to country. If the package is subsequently returned to us, you will be responsible for the return shipping charges and the transaction fee of the total product purchase. Then the rest of the money will be refunded to you after we get the package back.
Shipping & Handling:
Cosplayfu.com offer free worldwide shipping. Please make sure your shipping address is correct. We often use China Post, Hong Kong Post or USPS. Most likely you will get the products within 20-30 business days.
You also can choose other shipping methods to have a fast shipping. But extra fee is needed.
Refund:
We accept 100% refund when the product has quality problems or any unexpected mistakes. However the buyers are requested to send the product back to our office.
Please feel free to contact us by submitting a ticket in our
Support Center
.
Does the wig come styled and braided or will I have to do that myself?
CosplayFu (support@cosplayfu.com)

01-23 21:31

Hello Gaby, it has the base style with the pigtails already, you can style it like the photo easily.
Does it have those gold metal spikes on the end of either braid? I can't seem to find one that does
CosplayFu (support@cosplayfu.com)

01-15 23:43

Hi lilly, they are not the gold metal spikes, just the rubber band. n_n
Question!~ If I were to order this gorgeous looking wig today...would it be possible to receive it before January 17th, 2013? :O I already sent an e-mail but have received no reply.
CosplayFu (support@cosplayfu.com)

01-12 18:52

Hello Tabby, we are afraid it is unable to reach you before 17th Jan., since we need about 4-6 days to prepare it, and the fastest shipping (UPS) will take another 4-6 days to deliver the package, so it will reach you around 25th Jan. if you order today. n_n




*All shipping information (including methods, cost & estimated delivered date) will be shown in order page, before payment.
I have received the wig and it's pretty good; I greatly love the cleverness used to make it so that the spikes do not come un-done. The length is quite amazing too. The only thing is that the wig is a bit thinner than expected, buy overall it is an amazing wig.
CosplayFu (support@cosplayfu.com)

12-26 20:39

o(≧ω≦)o thanks for your message & great support, you really appreciate CosplayFU team!

It'll be sooo great if you can share few cosplay photos with all CosplayFU members worldwide~~~

* http://www.cosplayfu.com/blog/cheap-cosplay-discount/



Hi. I wonder how long the shipping would take for this wig to arrive here in Sweden. I need the wig in the end of october.
CosplayFu (support@cosplayfu.com)

10-04 18:32

Hello Alice, it depends on which shipping method you choose. n_n

If you buy it now & use fastest shipping method (UPS, 4-6 days shipping time), it will reach you around 20th Oct. :)




*All shipping information (including methods, cost & estimated delivered date) will be shown in order page, before payment.
Hello, I'm cosplaying as Alice soon, and have full intentions on purchasing this wig in about two months or so. I noticed though, that in the customer review photo, the wig was flat without the spikes of Alice's layers. Was that customer demonstration photo actually demonstrating the first Alice wig and not the second Alice wig? I feel deeply concerned with this, because I'm hoping that Alice wig(2nd) will come styled accurately, or will at least have very little need in styling from me when I recieve it.
CosplayFu (support@cosplayfu.com)

09-30 20:53

Hello Yuumell, the wig has base style already, for the picture, we just style it by hands, not use any styling products.
How long is the wig?
CosplayFu (support@cosplayfu.com)

09-01 04:29

It is about 135cm long.
Hi! I wonder what color this wig is. I know that it is supposed to be brown. But it looks brown/purplish, and i need a brown wig. Thankful for answer // Alice
CosplayFu (support@cosplayfu.com)

08-12 20:38

Hello Alice, the wig is brown, but under the sun there will be a little purple.
hi! i want to know if how much it will cost for the shipping fee here in italy?? thanks..
CosplayFu (support@cosplayfu.com)

06-12 17:15

Hello Shane, we include free shipping (Hong Kong Post, 20-30 days shipping time) worldwide. You can pay extra shipping cost and upgrade to a faster shipping method. n_n




*All shipping information (methods, cost & estimated delivered date) will be shown in order page, before payment.