| | | |
| --- | --- | --- |
| | Type comic title or character name | |
Show your support to CosplayFU
Follow us on
Home » Top 50 Cosplay » United Kingdom Cosplay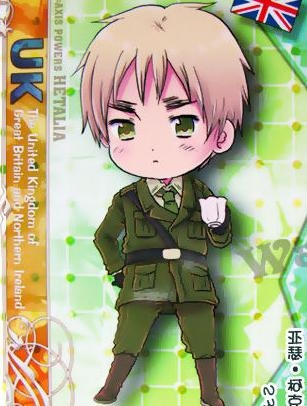 Character
England is a tsundere character. In the series, he is depicted as an irritable young man. A former pirate, he is now a cynical and sharp-tongued gentleman. Some of his notable character traits include his terrible cooking skills, foul mouth, and ability to see supernatural creatures. England is also shown to perform magic curses on his enemies. England is most antagonistic towards France, with whom he shares a long rivalry, and America, his former charge. Prominent features of his character design are his slightly short stature and large eyebrows.
Source from Wikipeida
CCNOW , Moneybookers and WorldPay are authorized online retailers for CosplayFU.com
About CosplayFU | All Comic Cosplay | All Comic Costumes | All Character Cosplay | All Character Costumes
FAQ | Disclaimer | Terms of Service | Privacy Statement | Contact Us | Refund and Return Policy | Reseller Program
International – United Kingdom – Canada – Singapore – Malaysia – Hong Kong - Australia
© 2013, CosplayFU.com or its affiliates. All Rights Reserved.
- Tailor-Made Anime Cosplay Costumes, Halloween Costumes,Costume Wigs & Accessories for Halloween & Cosplay Conventions.